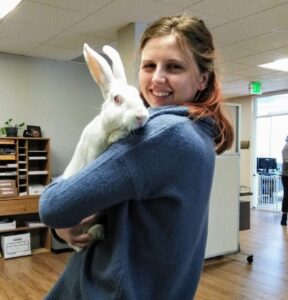 "Caty's role at RedRover and passion for animals, activism, and education are symbiotic – when her personal and professional worlds intersect, which is often, these various facets of her life benefit from one another. She's a better educator at work because of her experiences in the community. She's a better rescuer and community advocate because of her RedRover Readers training. And she leads by example to show that a little bit of kindness can truly go a long way."
"'[The RedRover Readers] program helps children gain empathy skills toward animals and, in turn, humans,' said Caty Franco, RedRover's education and marketing coordinator. 'Kids are naturally attracted to animals—they can't talk, but they can communicate, and this program shows them how. It's more than just reading a book.'"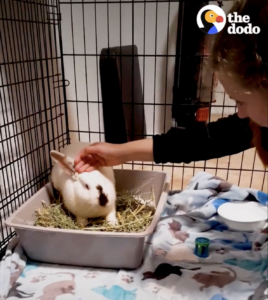 "I had never rescued a bunny before…"  Footage and interview of Caty's rescuing of one of her bunnies Tanooki, how Tanooki fell in love with her other bunny Rosie, and the bond they share.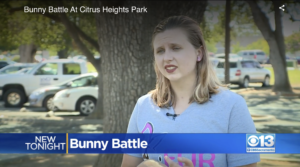 "It's really nice that [people] care about [the bunnies], but they're really not understanding that they're domestic," said Caty, a volunteer with Friends of Unwanted Rabbits.
Caty said the organization recently captured and rehabbed roughly twenty of the rabbits with plans to adopt them out.